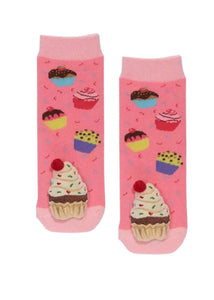 Messy Moose
Baby Socks - Pink Cupcake
Regular price
$12.00
$0.00
Introducing the adorable Messy Moose Kids Slipper Socks, the perfect choice for little ones who love comfort and cuteness! These baby slipper socks are designed to keep tiny feet cozy and safe while adding an extra touch of charm to their outfits.

One of the standout features of these slipper socks is the stitched plush charm, which adds an adorable detail that kids will adore. Whether it's a playful moose or a cute animal face, these charming accents will bring a smile to any child's face.

Safety is a top priority, which is why these slipper socks are equipped with slip-resistant treads on the soles. These treads provide excellent traction, reducing the risk of slips and falls, especially on smooth surfaces. Parents can feel confident knowing their little ones can move around with stability and confidence.

Crafted from a soft cotton blend, these slipper socks provide a gentle and cozy feel against delicate skin. The cotton blend ensures breathability, allowing little feet to stay comfortably dry throughout the day. Whether it's for lounging at home, playdates, or bedtime, these slipper socks offer a soft and soothing experience for active little ones.

Durability is essential when it comes to children's clothing, and these slipper socks are built to last. The high-quality construction ensures that they can withstand the adventures of everyday wear and tear. They can be washed and worn repeatedly without losing their shape or softness, making them a reliable choice for busy parents.

Bring a touch of whimsy and practicality to your child's wardrobe with the Messy Moose Kids Slipper Socks. With their charming stitched plush charm, slip-resistant treads, soft cotton blend, and long-lasting durability, these slipper socks are the perfect addition to any little one's outfit. Provide your child with both comfort and style, and watch them happily explore the world in these delightful slipper socks!
Fits Ages 0-36 Months
---
Share this Product
---
More from this collection