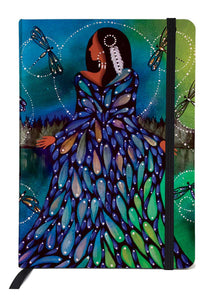 Indigenous Collection
Transformation II Lined Journal
Regular price
$14.00
$0.00
Introducing "Transformation II," a captivating notebook created by renowned artist Betty Albert. With her cultural background rooted in Cree heritage, Betty Albert brings a unique perspective to her artwork. By purchasing this notebook, not only do you gain a beautiful and functional item, but you also support the artist directly, as she receives a royalty on every sale.

Measuring 5" x 7", this notebook is perfectly compact for your everyday needs. It features 80 lined pages, providing ample space for jotting down your thoughts, ideas, and inspirations. Whether you use it for journaling, note-taking, or sketching, "Transformation II" is designed to inspire creativity.

The notebook also comes equipped with an elastic closure, ensuring that your pages remain securely protected. No more worries about loose sheets or misplaced notes. Additionally, it includes a convenient bookmark, allowing you to easily find your place and continue where you left off.

"Transformation II" is not just a practical tool, but a work of art in itself. Betty Albert's expressive and thought-provoking designs adorn the cover, making this notebook a visually striking piece. Let her vibrant colors and intricate details spark your imagination as you embark on your own creative journey.

Indulge in the beauty of "Transformation II" and support the talented artist behind it. Whether you keep it for yourself or gift it to a fellow art enthusiast, this notebook is a testament to the power of culture, creativity, and the spirit of transformation.
---
Share this Product
---
More from this collection