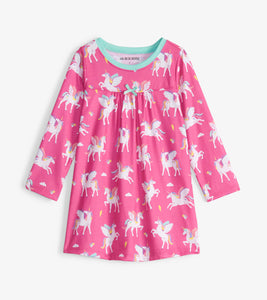 Hatley
Rainbow Pegasus Kids Nightdress
Regular price
$42.00
$35.00
Elevate your bedtime routine with this charming long-sleeve nightgown, perfect for adding both style and comfort to your nights. Crafted from high-quality polyester, this nightdress boasts a delightful bow accent and an enchanting shooting star pattern. It's the ideal choice for ensuring restful nights and cheerful mornings!

Key Features:
- Adorable bow embellishment at the center front.
- Delicate gathers adorn the front body, enhancing its appeal.
- Easy care with machine-washable convenience.

Composition: Crafted from 100% Polyester, this nightgown promises both durability and luxurious softness. Make your bedtime moments stylish and snug with this delightful nightwear.
Kids
The first column has the US/UK size, the second column has the corresponding EU size, the third column has the chest measurement associated to that size, the fourth column has the waist measurement, the fifth has the hips measurement, and the sixth has the height measurement
US/UK
EU
CHEST
WAIST
HIPS
HEIGHT
1
86
20.0"
51cm
19.5"
50cm
20.0"
51cm
32.0"
81cm
2
92
21.0"
53cm
20.5"
52cm
21.0"
53cm
35.0"
89cm
3
98
22.0"
56cm
21.0"
53cm
22.0"
56cm
38.0"
97cm
4
104
23.0"
58cm
21.5"
55cm
23.0"
58cm
41.0"
104cm
5
110
24.0"
61cm
22.0"
56cm
24.0"
61cm
44.0"
112cm
6
116
25.0"
64cm
22.5"
57cm
25.0"
64cm
47.0"
119cm
7
122
26.0"
66cm
23.0"
58cm
26.0"
66cm
50.0"
127cm
8
128
27.0"
69cm
23.5"
60cm
28.0"
71cm
53.0"
135cm
10/9-10
134-140
28.5"
72cm
24.5"
62cm
29.0"
74cm
56.0"
142cm
12/11-12
146-152
30.0"
76cm
25.5"
65cm
31.0"
79cm
59.0"
150cm
14
 
31.5"
80cm
26.5"
67cm
32.5"
83cm
63.0"
160cm
---
Share this Product
---
More from this collection