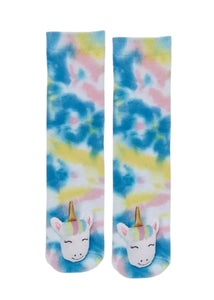 Messy Moose
Youth Socks - Tie Dye Unicorn
Regular price
$12.00
$0.00
Introducing the Messy Moose Youth Slipper Socks - Tie Dye Unicorn edition, designed to add a splash of color and whimsy to your child's wardrobe! These youth socks are not only fashionable but also offer comfort, durability, and safety, making them the perfect choice for active kids aged 7 to 10.

Featuring a vibrant tie-dye unicorn design, these slipper socks are sure to capture the attention and imagination of young ones. The stitched plush charm adds an extra touch of magic and playfulness, making these socks a delightful addition to any outfit.

Safety is a top priority, and these slipper socks are equipped with slip-resistant treads on the soles. These treads provide excellent traction, ensuring that your child can walk, run, and play with confidence, even on smooth or slippery surfaces. Parents can relax, knowing their child's steps are secure and stable.

Crafted from a soft cotton blend, these slipper socks offer a comfortable and cozy feel against the skin. The fabric blend includes 80% cotton, 17% polyamide, and 3% spandex, providing a balance of breathability, stretch, and durability. They are designed to keep little feet warm and dry, whether your child is lounging around the house, playing with friends, or even sleeping.

To ensure convenience for busy parents, these slipper socks are machine washable, with cold water recommended for optimal care. They are designed to withstand repeated washings without losing their shape or vibrant colors, making them a practical and long-lasting choice.

Give your child a delightful fashion statement with the Messy Moose Youth Slipper Socks - Tie Dye Unicorn. With their stitched plush charm, slip-resistant treads, soft cotton blend, and age-appropriate sizing for kids aged 7 to 10, these socks are both stylish and functional. Let your child's imagination run wild as they explore the world in comfort and style with these enchanting slipper socks!
---
Share this Product
---
More from this collection